The cousin of NBA star Dwyane Wade was fatally shot Friday afternoon in Chicago while pushing a baby stroller. It comes one day after Wade participated in a town hall in Chicago on athletes, guns and the path forward. Wade's cousin, Nykea Aldridge, was one of 11 reported victims of gun violence on Friday in Chicago. One of 2,739 reported victims in 2016.
On Saturday morning Donald Trump tweeted this: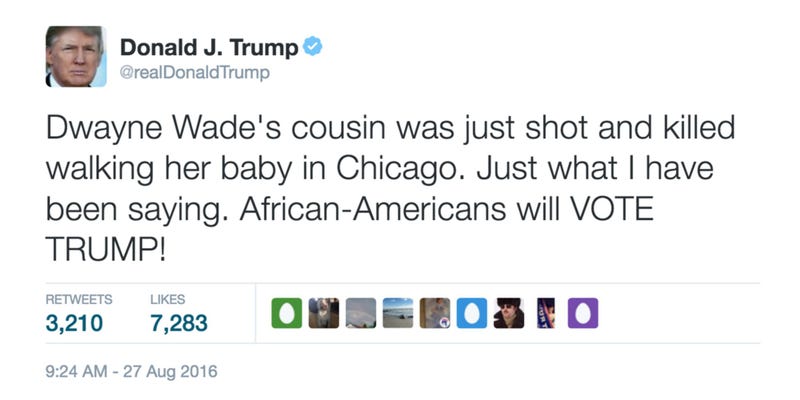 This comes at at a when Trump is attempting to appeal and reach out to African-American voters. He has labeled Hillary Clinton a bigot for treating minorities simply as votes while continuing the practice of institutionalized racism. Furthermore, Trump stated he could fix the violence in Chicago in a week.
These statements as well as this tweet have garnered much criticism both for their inaccuracies and their politicization of serious societal and cultural issues. And in response the Trump campaign did fix the tweet:
Because "Dwyane" Wade's name had been spelled incorrectly.