Colin Kaepernick remained seated during the playing of the national anthem prior to San Francisco's Friday night preseason game against the Green Bay Packers. You can see Kaepernick sitting down in the picture below.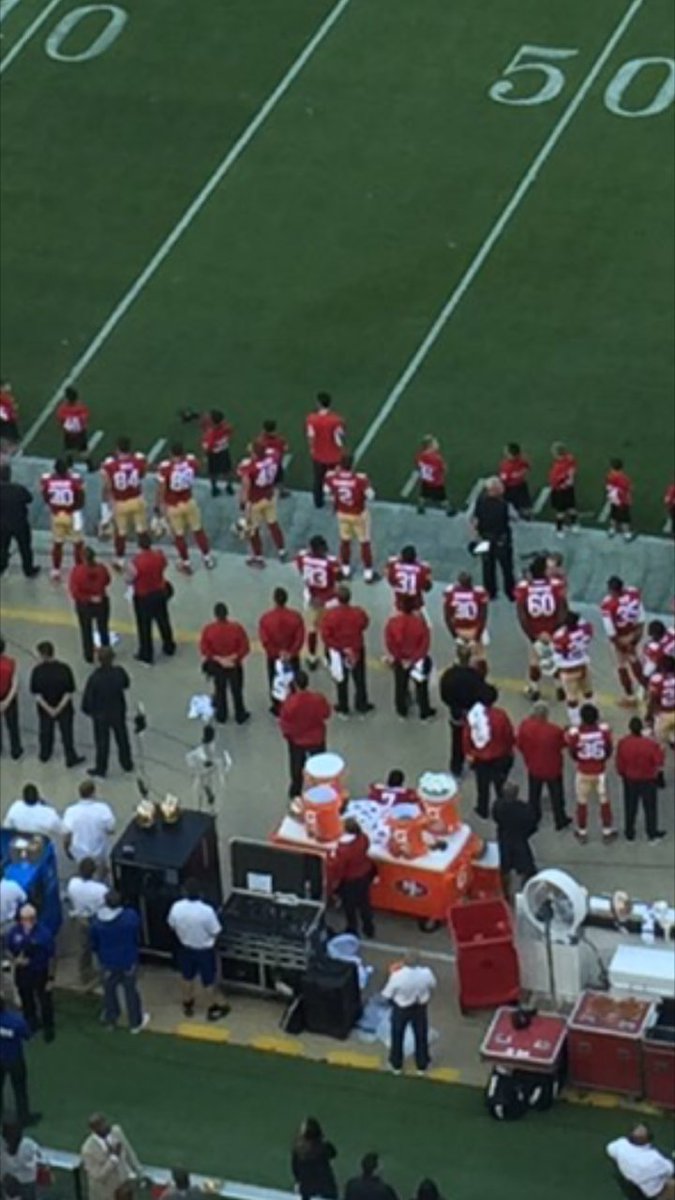 In a statement Kaepernick explained his action:
"I am not going to stand up to show pride in a flag for a country that oppresses Black people and people of color. To me, this is bigger than football and it would be selfish on my part to look the other way. There are bodies in the street and people getting paid leave and getting away with murder. …
This is not something that I am going to run by anybody. I am not looking for approval. I have to stand up for people that are oppressed. … If they take football away, my endorsements from me, I know that I stood up for what is right."
This is an issue about which Kaepernick feel passionate, as demonstrated by his Twitter feed. His action during the national anthem seems to fit into his beliefs.
And it's not against the rules. In a statement issues Saturday the NFL said, "Players are encouraged but not required to stand during the playing of the National Anthem". Similarly, the 49ers said in a statement,
"The national anthem is and always will be a special part of the pre-game ceremony. It is an opportunity to honor our country and reflect on the great liberties we are afforded as its citizens. In respecting such American principles as freedom of religion and freedom of expression, we recognize the right of an individual to choose to participate, or not, in our celebration of the national anthem."
It seems like the NFL and the 49ers would have definitely preferred Kaepernick to stand but they're at least paying lip service to his right not to do so. Given these statements on the matter it would be difficult for either the team or the league to subject Kaepernick to formal punitive punishment for his action. Additionally, Kaepernick's action occurs at a time when athletes are being increasingly encouraged and expected to speak out and stand up for social issues.
Yet the reaction from fans, fellow players and the media was swift and sometimes harsh. A tweet by New York Giants OG Justin Pugh encapsulates this criticism:
In response to criticism many have pointed out that while you do not have to agree with Kaepernick's actions or share his beliefs but he has a right to them and a right to express them. A tweet from former NFL player and current ESPN NFL analyst Damien Woody answers criticism such as that from Pugh:
But this polarized reaction is nothing new when discussing societal and political issues. It is to be expected. Such issues are not black and white and are infinitely intricate and nuanced. Differing opinions and viewpoints are what is needed for these issues to be publicized, debated and discussed. Without such there can be no meaningful progress.
Not all reaction to Kaepernick's action dealt with the appropriateness of what he did and its larger meaning in society and politics. And that's actually more troubling.
While some players did initially react negatively to what Kaepernick did, most players have supported his action. But not coaches and NFL executives. The only reason for this consensus would be because the coaches and executives are reacting not to what Kaepernick's action say about American society and American politics but rather what it says about Kaepernick as an NFL player. This viewpoint is best summed up by this tweet from ESPN NFL analyst Matt Hasselbeck:
Why? What does not standing for the national anthem have to do with Kaepernick's ability to play football? Nothing. While it may be argued that as Kaepernick is not guaranteed a starting spot for the 49ers this season his action makes it easier for the team to cut him, that still has nothing to do with what he did during the national anthem. It has nothing to do with his dedication to football, the 49ers or to winning the starting QB job. The point of this group is that what Kaepernick did looks bad.
I think that was Kaepernick's point.