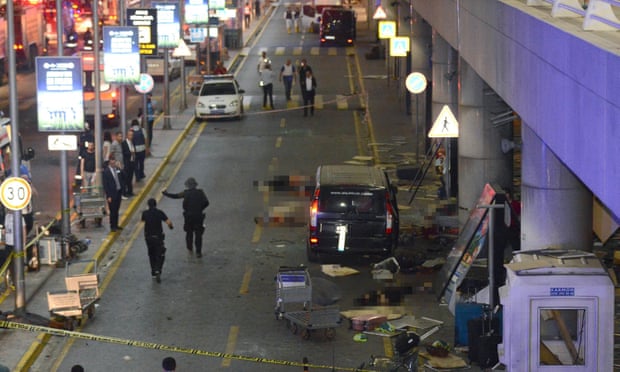 At least 41 people were killed and an additional 239 were wounded as the result of an attack by 3 suicide bombers in the intentional terminal of the Ataturk Airport in Istanbul, Turkey late Tuesday. In one sense this attack is not a surprise. This is just the latest in a line of attacks across Turkey. In the past year militant groups have executed at least 14 major terrorist attacks in Turkey, killing more than 200 people. This past Monday the U.S. State Department renewed a warning advising Americans about the dangers of traveling to Turkey due to terrorist threats.
The most deadly of these attacks have been carried out by the Islamic State, targeting popular and crowded places. According to analysts the attack also bears hallmarks of an Islamic State operation, including the use of multiple bombers and the targeting of foreigners. This has led to speculation that this latest attack was also perpetrated by the Islamic State, or at least those who sympathize with the organization as the thread by which the tenuous peace between Turkey and the Islamic State hangs has appeared to unravel. Many have speculated the airport attack is the result of further tensions due to the recent thawing of diplomatic relations between Turkey and Israel. However, while this would appear to be a terrorist attack at this point the identity and motives of the attackers is mere speculation. There has been no claim of responsibility and the majority of attacks over the past year in Turkey have been carried out by Kurdish rebels, not the Islamic State. If the attack is affirmed to be perpetrated by the Islamic State it would mark the organization's deadliest attack in Istanbul to date.
But not surprising. In fact, it should not only be unsurprising the attack took place in Turkey, but also in the choice of target and in the success of the attack. Airports are not secure. Actually, Ataturk is more secure than most. Travelers departing the airport are required to undergo double security screenings. One before they enter the international terminal building, and a second time after they go through passport control. The airport also stations vehicle checkpoints approximately 500 meters from the entrance of the international terminal. But it's security theater. Even as the response by security officials in the airport appear to have been diligent, there was no preventing the attack.
There is no foolproof way to prevent airport attacks. Officials can create and bolster security that prevent 9/11-style attacks where terrorists board and take control of planes, but attackers can adjust their targets. But even assuming the ability of security checkpoints to successfully identify and mollify potential attacks (not to assume given the state of the TSA) this only limits potential perpetrators from attacking specific areas. These potential attackers can, and appear to have successfully, adjusted to areas vulnerable before the screening process begins.
The Istanbul Ataturk Airport is the 3rd busiest airport in Europe and the 11th busiest in the world, servicing almost 62 million passengers in 2015. John F. Kennedy International Airport in New York services over 10 percent fewer passengers every year than Ataturk. Now imagine 3 individuals walk into John F. Kennedy International Airport wielding guns and carrying bombs. JFK does not have nearly as stringent security measures in place as Ataturk. If the attack on Ataturk killed at least 41 and wounded another 239, almost assuredly an attack on JFK would be worse. And this was a normal Tuesday.
During the 12-day holiday period from December 22nd to January 2nd this past year the Port Authority of New York and New Jersey estimated 770,000 passengers would pass through JFK. That's over 64,000 per day. During the 5-day Thanksgiving holiday it was estimated JFK would see approximately 675,000 passengers. Over 56,000 a day. You can argue that holiday security would be tighter, but how tight does it need to be to stop such an attack? Would it be any tighter than at Ataturk on a normal Tuesday?
There is no formal screening to enter the airport, or even to drive up to the curb outside the airport. As long as your vehicle isn't blatantly suspicious you won't get stopped. Then how many people are stopped at a kiosk to get their tickets or at the airline desk to check their bags? How many are standing at a screen, checking the status of their flight? How many are simply milling about? How many are standing in the security line, waiting to get screened? More than 41. More than 239.